Editor's Pick – Highest Overall Rated Service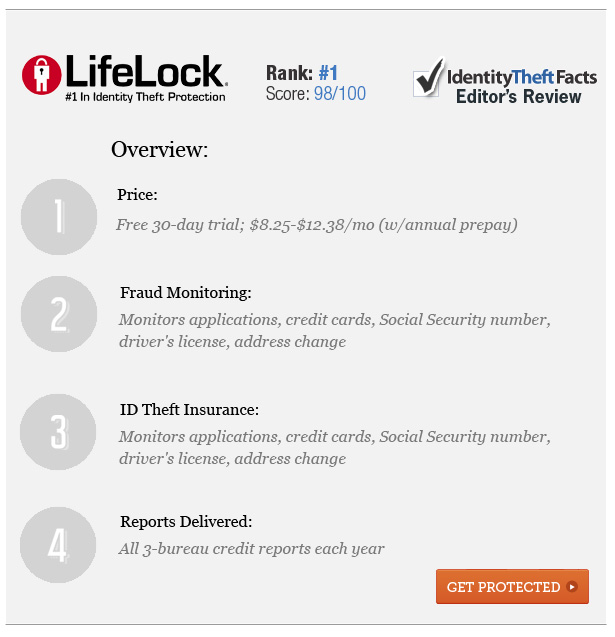 LifeLock, a company based in Tempe, Arizona, protects over one million customers. It is one of the fastest-growing companies in the United States.
LifeLock has also been nominated for numerous awards, such as the American Business Awards' best new product/service award, and the Red Herring 200's top 200 most innovative and promising private firms award.
LifeLock has forged strategic financial partnerships with such prestigious firms as Goldman Sachs Inc., Kleiner Perkins Caufield & Byers, and Bessmer Venture Partners. These partnerships have helped to make LifeLock an identity theft protection industry leader.
Lifelock Individual Service Features
LifeLock offers the following services:
Identity Threat Detection and Alerts

Stolen information is often used to apply for credit cards, wireless services, retail credit, utilities, check orders/reorders, mortgage, auto, and payday loans. LifeLock actively reviews applications submitted within their extensive network for any attempts to use your personal information.* Any time they detect suspicious activity they will alert you by email, postal mail, and/or phone-meaning you'll hear from them only when necessary. *Network does not cover all transactions and scope may vary.

Lost Wallet Protection

A lost or stolen wallet can leave you stranded as thieves go on a spending spree. If your wallet goes missing, just call LifeLock any time, anywhere-and they will help complete the paperwork and steps necessary to cancel or replace the contents, to help stop fraudulent charges and get you back on your way. Coverage includes: credit/debit cards, driver's licenses, Social Security cards, insurance cards, checkbooks and travelers checks (pictures, cash, and cash equivalents excluded).

Address Change Verification

Identity thieves can steal your mail and your personal financial information by placing a change of address request with the United States Postal Service. LifeLock will monitor these requests and will notify you any time they detect a change of address associated with your personal information.

Advanced Internet Monitoring

Identity thieves illegally buy, sell, and trade identity information on Internet sites around the world. LifeLock patrols over 10,000 criminal websites and notifies you if any of your on-file information is found.

Reduced Pre-approved Credit Offers

Pre-approved credit offers that get thrown in the trash can be used by identity thieves. LifeLock has your name removed from many pre-approved credit mailing lists, and over time, you will notice a decrease in the amount of offers you receive.

$1 Million Total Service Guarantee

As a LifeLock member, if you become a victim of identity theft because of a failure in their service, they will spend up to $1 million to hire experts, lawyers, investigators, consultants, and whomever else it takes to help your recovery. (Restrictions apply. See www.lifelock.com for details.) Disclaimer: Due to New York State law restrictions, the LifeLock Service Guarantee cannot be offered to the residents of New York.

24/7/365 Member Service

LifeLock is there to help you 24 hours a day, 7 days a week, 365 days a year. If at any time you have questions or need to make changes to your account, sign in to your secure member portal at LifeLock.com, email them at Member.Services@LifeLock.com, or call 1-800-LifeLock (543-3562).
LifeLock Command Center
Not all identity theft is credit-related. Your stolen identity could be used to avoid arrest, to seek medical attention, or to obtain fraudulent employment.
LifeLock Command Center protection provides expanded monitoring of your information in a comprehensive network of databases and unregulated file-sharing networks. They alert you to potential threats via personalized, online alerts and reports. Sign in to your secure member portal at LifeLock.com to learn more.
Data breach detection Services

Peer-to-peer file-sharing networks are unregulated Internet connections where users can download and share pictures, music, and files. But they can also provide criminals access to sensitive data stored on other people's computers.
LifeLock actively monitors these networks for files containing your personal information. If they find that your data has been leaked onto these networks, they will alert you and provide guidance to correct the breach.

Payday Loan Records

Payday loans don't require a credit check. LifeLock notifies you of any payday loan activity associated with your personal information.

Public Records

LifeLock monitors previous address information associated with your identity to ensure it is not being used for other purposes, such as obtaining employment or renting an apartment.

Court/Criminal Records

LifeLock will search for criminal history linked to your identity information. These reports are pulled from various sources to help protect you from being falsely associated with criminal arrest and conviction records.

Alias Records

LifeLock wil pull together information from various public sources to ensure no one is using your identity as an alternate name.

Sex Offender Registries

LifeLock compiles a report of any registered sex offenders in your area. This report also helps detect if a sex offender has listed your address to avoid detection.
Credit Score Manager
Take control of your credit and finances. Credit can be complicated. LifeLock Credit Score Manager service makes it easy. Know what's on your credit report, see what lenders see, and get alerts when important changes occur. Manage your credit score and make informed financial decisions with LifeLock.
Daily credit monitoring of all three credit bureau reports
Email alerts as important changes are detected
Monthly TransUnion credit score tracking
Annual tri-bureau credit reports and scores
Unlimited online access to your credit information
Assistance – 24 hours a day, 7 days a week, 365 days a year
Pricing And Cancellation
LifeLock offers five main plans. Customers may subscribe on a monthly or annual basis. Customers also may also add an unlimited number of children to their plans for a low per-child additional rate.
Current Services include:
Customers may cancel their service at any time by calling LifeLock's customer service. All but the current prepaid month will be refunded
Customer Service
LifeLock provides unlimited online access to its my LifeLock member portal and direct 24-7 access to Member Service Representatives. LifeLock also offers self-guided help through an online FAQ database.
Customer Service Information
LifeLock in a Nutshell
LifeLock offers customers huge value by packing its main plan with many useful services. LifeLock also straightforwardly presents its system's workings and customer benefits. Industry competitor TrustedID markets virtually the same product as LifeLock. But customers interested in impregnable security and trustworthy service need look no further than LifeLock, the industry leader in identity theft protection.