Social Security, which is run by the U.S. government, collects taxes and distributes supplemental security income to senior and/or disabled citizens, and Social Security numbers (SSNs) track each citizen's contribution to the Social Security fund. The Social Security Administration (SSA) is in charge of issuing and tracking Social Security numbers, cards and benefits for legal citizens.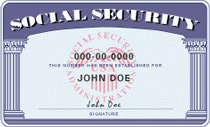 Employers, credit card companies and banks also use Social Security numbers for identification. A lost or stolen Social Security card is a common problem and can pose significant identity theft dangers, being that thieves are then able to receive benefits fraudulently. Identity thieves can use Social Security cards and numbers to receive disability benefits, gain employment, apply for credit, rent apartments, file tax returns and receive medical benefits illegally.
While the Social Security Administration does not handle lost or stolen Social Security cards directly, they do offer advice on how to protect oneself against identity theft along with how to obtain a new Social Security card manually. Below is a list of steps to take in order to report and replace a lost or stolen SSN card:
If Social Security fraud is suspected, Social Security statements should be analyzed for any suspicious employment, earnings or benefits received. Individuals should receive a Social Security statement annually from the Social Security Administration. To request a Social Security statement, visit: www.socialsecurity.gov/oig/hotline/
If no suspicious activity has been found:
Individuals should issue a 30-day fraud alert on their credit scores as a precaution by contacting Equifax, Experian, and TransUnion
All credit card scores, financial statements, and Social Security statements should be monitored closely.
Individuals should apply for a new Social Security card replacement. See steps 9 – 11 for more details.
If suspicious activity has been found:
In addition to placing a fraud alert and monitoring all statements closely, a complaint should be filed with the Federal Trade Commission by visiting: http://www.ftc.gov/
An online complaint should also be filed with the Internet Crime Complaint Center at http://www.ic3.gov
Contact the Social Security Administration to ensure that all income is being calculated correctly. The Social Security number and employer information should also be verified.
Contact all local and federal authorities to inform them of the Social Security card theft. Also, inform all credit card companies and financial agencies that the card has been stolen and that a replacement is on the way.
Apply for a free Social Security card replacement by visiting: www.socialsecurity.gov. A form will need to be printed and filled out along with key documents.
Gather all original documents, including birth certificates, passports, and government-issued IDs as proof of citizenship and identity.
Mail-in the completed form to the closest Social Security office, and expect to receive the replacement card between 2 and 4 weeks after the request has been processed. Certain states require that individuals apply for a replacement card in person.
12) In rare circumstances, individuals may obtain a new Social Security number only if they prove that their identity has been stolen. For more information, visit www.socialsecurity.gov
Reporting and replacing a lost or stolen Social Security card is a lengthy process that takes weeks to accomplish. It requires that individuals analyze all their statements, contact different agencies and fill out forms. However, all of this hassle can be avoided by using an identity theft protection service, such as LifeLock.
Important Resources
Below contains a list of important addresses, numbers, and websites:
Experian P.O. Box 2002 Allen, TX 75013 1-888-397-3742
TransUnion P.O. Box 1000 Chester, PA 19022 1-800-888-4213
Equifax P.O. Box 740241 Atlanta, GA 30374 1-800-685-1111
Social Security Administration: www.socialsecurity.gov
Internet Crime Complaint Center contact form: www.ic3.gov/contact/default